Leather Crafting Workshop in Singapore
CraftLab's Non-Stitched Leather Crafting Workshop teaches leather
crafting skills and techniques. Learn the fundamentals of leather
crafting and a technique known as fastening to combine pieces of leather
together. We boast a myriad of leather items - from key fobs to
namecard holders, one of which is destined to have
your mind set on. Furnishing the element of team-building, our leather crafting workshop
prides itself in being the go-to workshop for team-building. Our fully
experienced leather artisans elevates the leather crafting experience
through injections of team-building.
Details:
Our 1.5 hour session of leather crafting is suitable for all age
groups, kids are welcomed as well. This basic leather-crafting
workshop is beginner-friendly with professional guidance
through every step. Participants will bring home their personal crafts at the
end of the workshop.
Benefits:
Only at CraftLabs, you'll get to experience teambuilding in a unique setting - through the art of leather crafting! Bond with your friends and colleagues
through this introductory leather-crafting workshop. Team-building has
never been so avant-garde, with the the guidance of our experienced
leather artisans in both leather crafting and facilitating. .
Objectives:
Learn the basics of leather crafting by stitching and create your own leather accesory to your liking. You will be taught the techniques of
creating small leather goods without the use of stitches but rather
through fastening the leather pieces.
Personalise your leather piece by debossing your name, initials or even
phrases! The possibilities are endless!
Types of Leather Crafting Workshops
Whether it is for a corporate team building activity, a birthday party or fringe activities, be prepared for a fun-filled time of creating a masterpiece and bringing it home.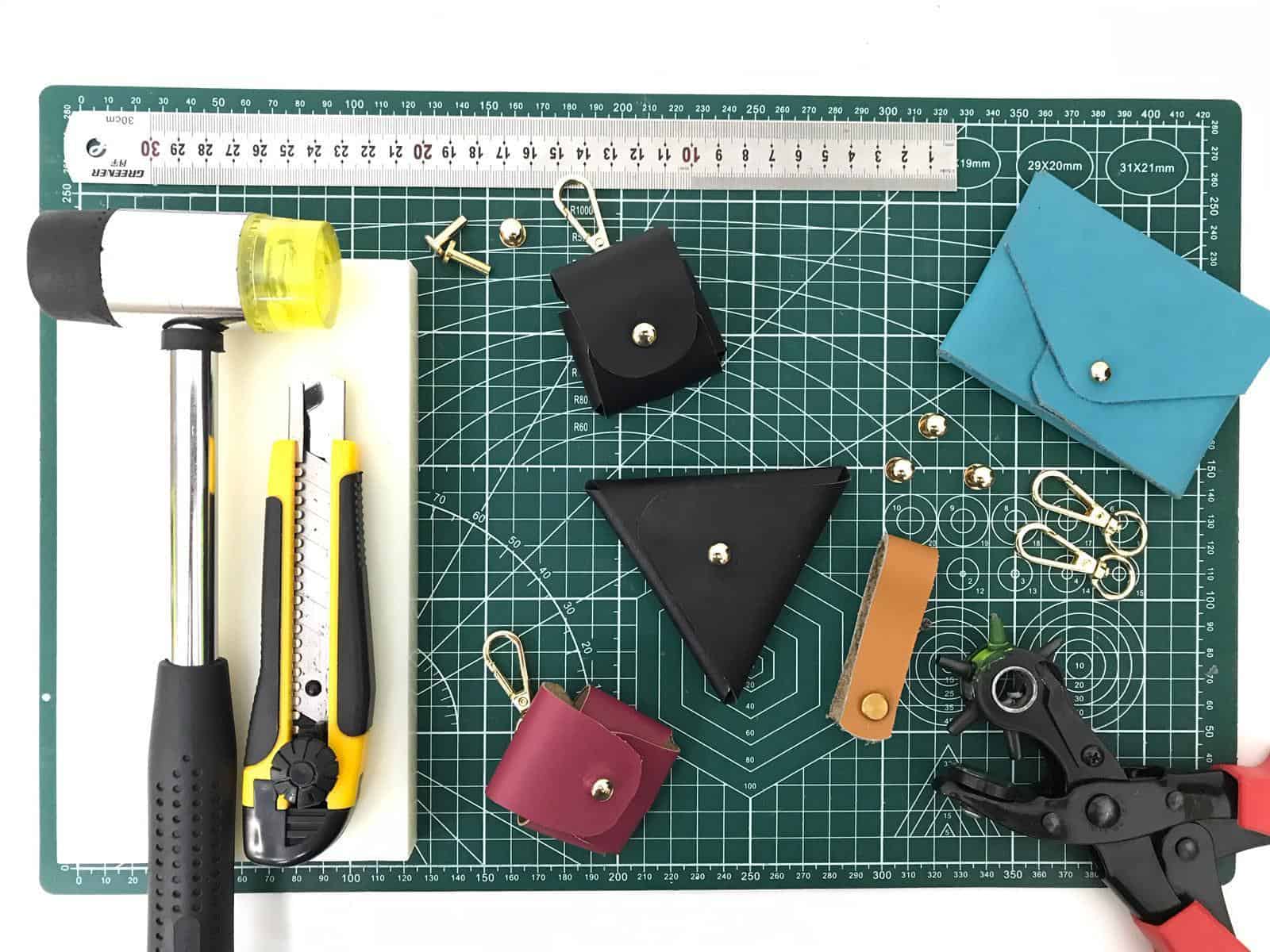 Non-Stitched Leather Making Workshops
Everyone paints on their own canvas.
Want to craft your own leather coin purse or cardholder? At Craft Labs' Non-Stitched Leather Making workshop, you can create your own masterpiece. This class is beginner-friendly, no background in sewing is required!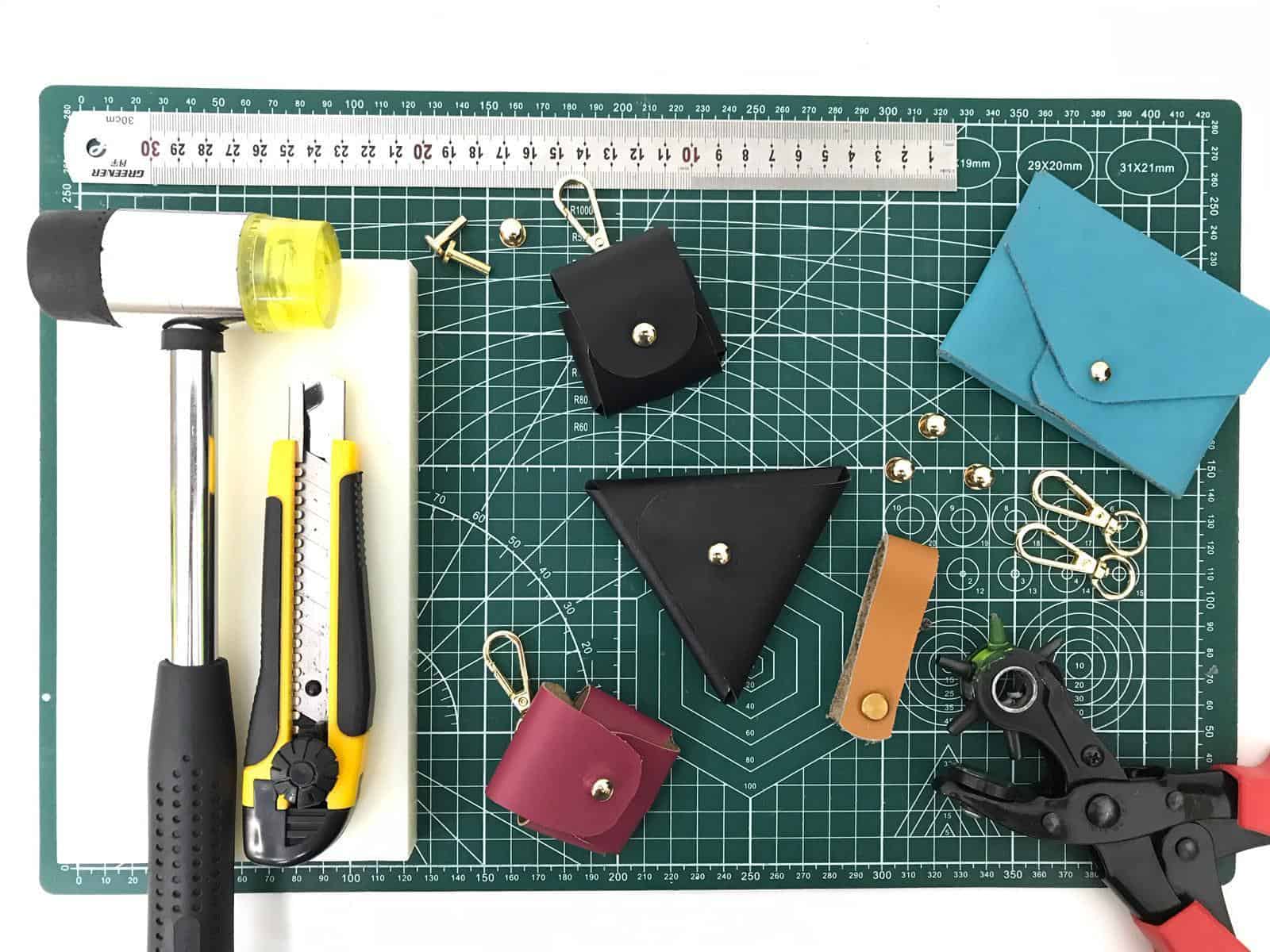 Stitched Leather Making Workshops
Love to sew? Fearless when it comes to holding a needle and thread? Here's a way you can show off your sewing skills.
Join us for our stitched leather making workshop and make stitched leather pencil cases & name card holders.
1. What type of leather do you use for Craft Labs Leather Crafting?
We use cow-hide leather. For special requirements, kindly let us know as we will be able to customize to fit your needs.
2. Can I choose the colour of my leather piece?
Of course! At the start of each session, participants will choose their own leather pieces to begin with.
3. How do I take care of my leather product?
Use leather wipes to wipe off dust occasionally.
For aesthetic purposes, use leather polish for an added extra
shine to your leather products. Dry your products, especially
after using leather wipes to prevent moulding.
Trusted by these esteemed clients:
Craftlab Faq
Why choose Craft Labs Singapore for your event?
With years of experience in the events and team building industry, CraftLabs prides itself on being Singapore's #1 Provider in indoor craft workshops. Here's our promise to you – the 3Cs of CraftLabs.
Certified Instructors. To ensure the best quality of the workshops delivered by CraftLabs, our trainers are all in-house employees and are SCFP certified under our rigorous training programme.
Competitive Pricing. Our workshops are priced competitively, without compromising on quality so you'll have a peace of mind!
Customizable for your needs. We're able to do various events not limited to Team Building and Birthday parties, hence we're flexible and we'll make the events work!
Where will Leather Crafting Workshop be held at? We are able to do our workshops in-house here at CraftLabs studio or an off-site venue of your choice! We are centrally located and the CraftLabs studio is accessible via public transport, near Marymount MRT (CC16).
I am interested to sign-up for your workshops. How to make a booking? For workshop bookings and reservations, kindly contact us via email at contact@craftlabs.sg with the following information.
Preferred workshop
Date & Time,
Venue of your choice
Number of participants
We will try to accommodate to your preferred date and time and will get back to you as soon as we can.
What age group is Craft Labs Leather Workshop suitable for? Our workshops are designed to suit all ages for children and adults! However, we would recommend for children aged 3-7 years old to have an accompanying adult for parental supervision.
What is the minimum number of pax to start the Leather workshop? The minimum number to book a session with us at Craftlabs will be 5 pax. Should you have a lesser number of pax, feel free to enquire still!
Our rates Our rates are based on the number of participants and choice of workshop. Kindly drop us an email at contact@craftlabs.sg.
Do you do private events like Hen's Party or Birthdays? Of course! Here at Craftlabs, we've done various events – from private parties to corporate events.
Request A Free Quote
Choose from a wide variety of Indoor Team Building Activities from 5 to 400 pax!