Art Jamming Workshop in Singapore
Art jamming is an activity where a group of people come together and explore their creative side by trying their hands at canvas painting. It is a perfect opportunity for you to express your ideas and emotions through strokes and colours. At CraftLabs Art Jamming Workshop, there are a variety of options for you and your team to choose from to ensure the best team building or stress relieving experience. We believe that everyone has a hidden artistic talent ready to be shown. Join us, and paint what your heart desires today. Here at CraftLabs, we have many choices on how you wish for your art jamming workshop to be conducted, whichever is comfortable with you. We offer painting a single large canvas together or piecing individual artworks into a giant masterpiece or any customised needs. As each individual has a different artistic style and approach to painting, the team members will be able to understand and relate to each other better through expressing art.
Details
Over at Epic Workshops' Art Jamming Workshop, you will be provided with all the necessary materials required for painting your artwork such as paintbrushes, canvas, paint, apron, etc. It is perfectly fine to attend the workshop without any prior art experience as our friendly facilitators will be there to guide and assist you along the way during this 1.5-2hours session.
Benefits
Painting can be both fun as a collective groupwork and also soothing as an individual masterpiece. Moreover, painting can also be a training of patience and attention to details. You will not only discover your potential in art but have an epic time as well with your family, friends and colleagues.
Objective
Through EPIC's art jamming session, you let your imagination take hold as you express your ideas onto the blank canvas. By the end of the workshop, you will get to admire and take home your unique artpiece. Most importantly, you will have an enjoyable and relaxing time with your family or friends!
Types of Art Jamming Workshops
Whether it is for a corporate team building activity, a birthday party or fringe activities, be prepared for a fun-filled time of creating a masterpiece and bringing it home.
Art Jamming (Individual Canvas)
Everyone paints on their own canvas.
Take a break from your daily grind and unleash your creativity with our Art Jamming workshop! Our private Art Jamming workshops allow your team to reignite their creativity, de-stress and explore their creative and fun side.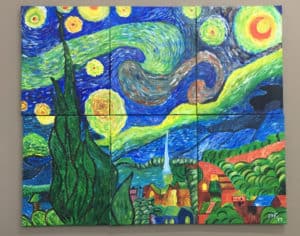 Art Jamming (Combined Group Art)
A group of 6 to 8 paint their own individual image, then combine together to form a big image.
In our Advanced Soy Candle Making Workshop, get the chance to apply what you've learnt in our Basic Soy Candle Making Workshop to customise your candle further with layering techniques and additional colours. With all that effort, you've gotten yourself a candle with intricate designs
Art Jamming (Group Canvas)
Group of 5 paint on a big canvas
Learn how to make your very own gel candle and customize it yourself with the help of our friendly trainers. Grab a minimum of 5 pax and sign up today!.
LED Lighted Canvas Art Workshop
This lighted canvas workshop will allow you to enhance your artwork with the installation of LED lights! This brings an extra sparkle to your art piece.
Tote Bag Painting Workshop
Art Jamming typically refers to painting on canvases but at Craft Labs, we offer "Art Jamming With A Twist", where participants can also paint on t-shirts and tote bags!
1. Can Craft Labs Art Jamming Sessions be customised to my needs?
Yes! Other than our standard sessions, we also offer services catered to our customer's needs to provide them with a more satisfactory experience.
2. Do I need to bring my own materials?
No, all the materials such as paint brushes, paint, canvas and aprons will be provided. The only thing you need to bring will be yourself!
3. What if I have no prior art experience?
We believe that everyone should have the right to create art, so we welcome people of all backgrounds and ages with or without art experience! If you are unsure on how to express your ideas on canvas, our friendly art facilitators will be there to guide you!
4. What can I expect from the workshop?
Our professional trainers will start off the workshop with a presentation to equip participants with the basic painting techniques. We will teach participants on how to create their desired effects on canvas. Fret not, we will customise our presentation according to the audience be it students or adults. Following which, we will begin with the hands-on session and each participant will get to bring home their own masterpiece.
Trusted by these esteemed clients:
CRAFTLABS
Why choose Craft Labs Singapore for your event? With years of experience in the events and team building industry, CraftLabs prides itself on being Singapore's #1 Provider in indoor craft workshops. Here's our promise to you – the 3Cs of CraftLabs.
Certified Instructors. To ensure the best quality of the workshops delivered by CraftLabs, our trainers are all in-house employees and are SCFP certified under our rigorous training programme.
Competitive Pricing. Our workshops are priced competitively, without compromising on quality so you'll have a peace of mind!
Customizable for your needs. We're able to do various events not limited to Team Building and Birthday parties, hence we're flexible and we'll make the events work!
Where will Art Jamming Workshop be held at? We are able to do our workshops in-house here at CraftLabs studio or an off-site venue of your choice! We are centrally located and the CraftLabs studio is accessible via public transport, near Marymount MRT (CC16).
I am interested to sign-up for your workshops. How to make a booking? For workshop bookings and reservations, kindly contact us via email at contact@craftlabs.sg with the following information.
Preferred workshop
Date & Time,
Venue of your choice
Number of participants
We will try to accommodate to your preferred date and time and will get back to you as soon as we can.
What age group is Art Jamming Workshop suitable for? Our workshops are designed to suit all ages for children and adults! However, we would recommend for children aged 3-7 years old to have an accompanying adult for parental supervision.
What is the minimum number of pax to start the Art Jamming Workshop? The minimum number to book a session with us at Craftlabs will be 5 pax. Should you have a lesser number of pax, feel free to enquire still!
Do you do private events like Hen's Party or Birthdays? Of course! Here at Craftlabs, we've done various events – from private parties to corporate events.
Request A Free Quote
Choose from a wide variety of Indoor Team Building Activities from 5 to 400 pax!
Frequently Asked Questions
FAQ 1
Toggle content goes here, click edit button to change this text.
FAQ 2
Toggle content goes here, click edit button to change this text.
FAQ 3
Toggle content goes here, click edit button to change this text.